ThinkPad X1 Carbon Gen 9: Lenovo Lights-Up Tiger Lake For Its Tried And Trusted Business Ultralight

Lenovo's venerable ThinkPad X1 Carbon has been one of the longest-running of the company's trusted business-class laptop series. Now in its 9th generation, Lenovo sought to re-energize the X1 Carbon not only with Intel 11th Gen Core Series processors (Tiger Lake), but with Intel Evo certification that brings with it a number of key refinements. The machine that we have on tap for review here today also includes an impressive new 16:10 format UHD+ (3840X2400) display.
Though the ThinkPad X1 Carbon Gen 9 retains its unmistakably classic and understated hybrid carbon fiber weave and magnesium alloy body, weighing in at a feather-light 2.49 pounds, we're now also treated to a single, unified hinge design, a wider touchpad, an improved Dolby Atmos enabled speaker system and enhanced security features with optional IR camera and human presence detect. This latter technology that is freakishly-adept at what it's design to do. More on this later, but for now let's take a guided video tour of the new Lenovo ThinkPad X1 Carbon Gen 9…
Processor
Intel 11th Gen Core i7-1165G7 (Quad-Core, 4.7GHz Max Boost, 12MB Cache)
Display
14.0″ UHD+, 3840×2400, IPS, 500 nits, Glossy, 16:10, 1500:1 Contrast, 100% DCI-P3
Graphics
Intel Iris Xe Graphics
Storage
512GB M.2 2280 PCIe NVMe SSD
Memory
16GB LPDDR4x-4266 (Soldered)
Audio
2 x 2W And 2 x 0.8W (Dolby Atmos)
Camera
IR & 720p Webcam With Privacy Shutter, Fixed Focus, Human Presence Detection
Wireless
Intel Wi-Fi 6 AX201, 802.11ax 2×2 Wi-Fi + Bluetooth 5.2
Ports: Left
2 x Thunderbolt 4 / USB4™ 40Gbps (data, power, display)
1 x USB 3.2 Gen 1
1x USB 3.2 Gen 1 Type-A
1 x HDMI 2.0
Ports: Right
1 x USB 3.2 Gen 1 (Always On)
1x Nano-SIM Card Slot (Optional For WWAN Models)
1 x Headphone / Microphone Combo Jack (3.5mm)
1x Kensington-Style Lock Port
Keyboard
6-Row, Spill-Resistant, Multimedia Fn Keys, LED Backlit
Navigation
UltraNav™ TrackPoint® Pointing Device, Glass Surface Multi-Touch Touchpad
Battery
57Wh, Supports Rapid Charge (80% In 1 hour)
Weight
1.133 kg (2.49 lbs)
Dimensions
315 x 221.6 x 14.9 mm (12.4 x 8.72 x 0.59 inches)
Materials
Case Color: Weave
Case Material: Carbon Fiber (Top), Magnesium Alloy (Bottom)
Operating System
Windows 10 Pro 64
Price
Starts at $1,402.80 – $1,928.40, As Tested
Quickly perusing the specs, we've got a standard issue Core i7-1186G7 Tiger Lake CPU under the hood, along with 16GB of soldered (unfortunately but not uncommon in this form factor) LPDDR4x-4266 DRAM and a 512GB NVMe SSD. The storage subsystem is serviced by a PCIe Gen 3 SSD, and though we'd prefer some of that glorious bandwidth of PCIe Gen 4 alternatives available these days, it's obvious that manufacturers are going with some lower cost options that top out at 3GB/sec, which is typical of a PCIe 3 SSD. We'll dig into specific storage performance later but beyond CPU, memory and storage, there are a nice assortment of IO options here as well.
ThinkPad X1 Carbon Gen 9 IO Port Expansion And Sound System
The ThinkPad X1 Carbon Gen 9 has a pair of full 40Gbps Thunderbolt 4 ports, along with two USB Type-A ports, both of which are USB 3.2 Gen 1, as well as a full-sized HDMI 2.0 port, a combo headphone/mic 3.5mm jack an a Nano-SIM slot for optional 4G LTE connectivity. If ONLY there were a MicroSD card slot, Lenovo, your port selection would be el perfecto, but you knew that because we've asked for it over and over.

IO Ports: Left And Dolby Atmos Speaker System

IO Ports: Right

Lenovo's 65 Type USB-C Power Adapter Is Still Plenty Petite The other smaller caveat here is that both of those Thunderbolt 4 ports, which can be used for charging, are located on the same left edge of the machine. Unfortunately, this makes for less flexible charging cable positioning, unlike Dell's XPS 13 2-in-1, and similar machines from the company, that offer USB-C charging from either side edge of the machine. It's a small, thoughtful design choice that we're hopeful Lenovo will see clear to making the same decision some day as well.
In terms of its sound system, the Dolby Atmos-enabled, quad-driver setup in the new X1 Carbon has two up-firing midrange drivers/tweeters on either side of the keyboard and two down-firing woofers on the undercarriage of the machine. Acoustically, the system sounds decent with good volume output and impressive spatial separation. However, it does lack the bass response of competitive machines like Dell's XPS 13. It's a reasonably-equipped sound system that'll will serve most mainstream consumers just fine, though audio aficionados will want to connect some buds or cans.
ThinkPad X1 Carbon Gen 9 Keyboard – The Best In The Business
Ahh, but then there's the ThinkPad X1 Carbon's usually fantastic keyboard. We've said this before many times and we'll say it again here; when it comes to laptop keyboards, especially ultralight machines, Lenovo's ThinkPad line is the best in the business. Period. Cue mic drop.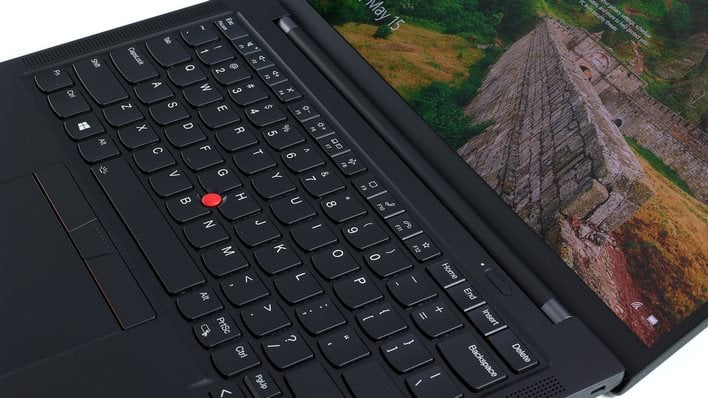 Though this machine sports a 14.9mm Z-height thickness, it's delightfully springy and deep key travel and contoured, shaped key caps make typing on this laptop a real pleasure. It's that good. Lenovo is also laying claim to a 10%-wider track pad, which also comes trimmed with a three-button mouse complement. Really, along with its iconic red trackpoint nub, when it comes to laptop user interfaces, Lenovo's LED backlit ThinkPad X1 Carbon keyboard is, in a word, fantastic.
X1 Carbon Gen 9 Hinge Design And QHD+ Dolby Vision Display
And on the back edge of the new X1 Carbon's keyboard deck is a fingerprint reader-equipped power button, as well as a new single contiguous hinge design that feels pretty solid as well. The hinge articulates 180 degrees to a full flat position and has a smooth but firm swing motion that is light enough to be able to open the machine one-handed. Lenovo designed the hinge mechanism to be firm enough such that there is zero slop or stiffness either way when opening the or closing the lid, and this machine's 16:10 format display is also flanked with relatively thin bezels, as you can see here.
The X1 Carbon Gen 9's display, at least the one we're looking at here, is also something special. Sporting a native 3840X2400 resolution, with a 16:10 aspect ratio, this 4K display option is not only low blue light TUV Rheinland certified, it's also Dolby Vision certified and offer 500 nits of punchy brightness with great contrast as well. It really is a beautiful display and though Windows suggests a ridiculous 300% scaling for its 4K res on this 14-inch touch-enabled panel, we found that 200% was about the right compensation level for efficient use of real estate, along with the best eye comfort. However, as beautiful as this display is, we do wish Lenovo offered a 1440p or 1600p (2560X1600 in 16:10 format) option, in addition to the FHD+ (1920X1200) versions they offer, as that is what we feel is the ideal resolution for the 13 to 14-inch laptop category.
ThinkShutter Privacy And The IR Camera Knows When You're Paying Attention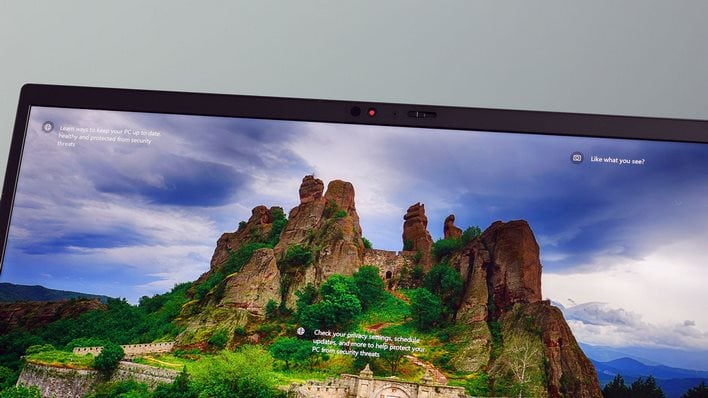 Lenovo Privacy ThinkShutter And IR Human Presence Detect Camera The other well-executed features of this Lenovo display option are its ThinkShutter privacy switch that closes off the camera without the need for tacky tape when you want to ensure prying eyes don't have access to your camera, and also its optional IR Camera with Human Presence Detection technology. As we eluded to earlier, the presence detect feature on this laptop is so well engineered that you can have the machine sitting next to you, look away, and it will power down its display one second, then glance back at it the next the next second, and the thing wakes up, as if to say, "yes human? How many I assist?"
Lenovo's ThinkPad Smart Assist technology is the best human presence detect implementation we've seen yet, beyond Dell's Latitude line that has done a reasonably good job with proximity based sign-in as well.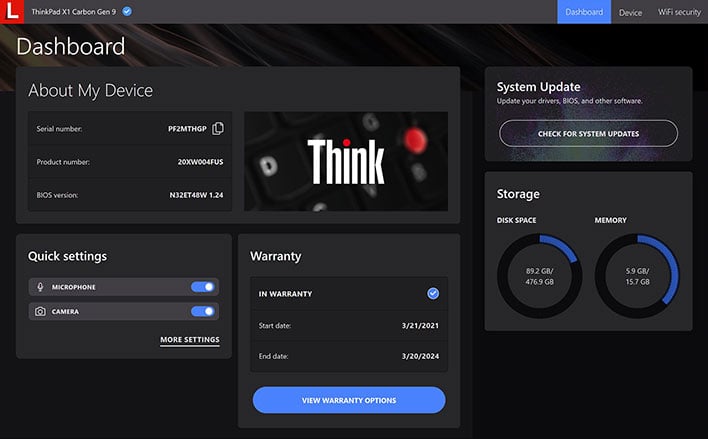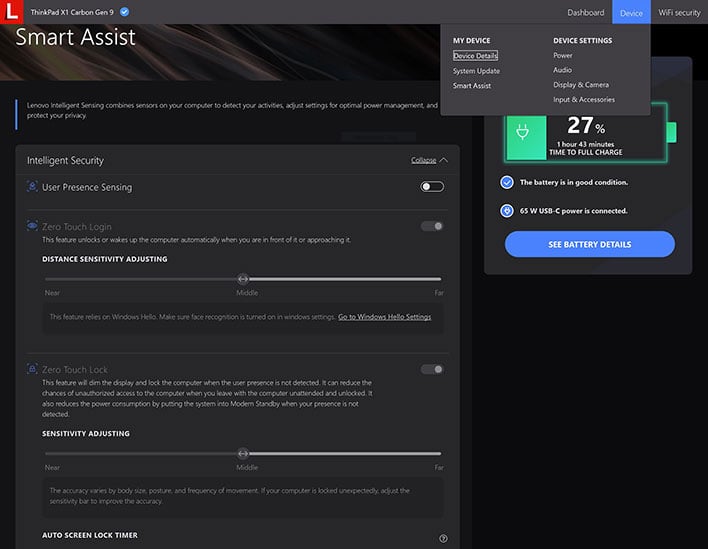 Finally, all of this functionality and more can be dialed in to your liking via Lenovo's ThinkVantage app. From system firmware and software updates, to system health and resource monitoring, as well as ThinkPad Smart Assist configuration, it's all in here with an intuitive, organized interface.

Well then, that should give you a good sense of the creature comforts of the new ThinkPad X1 Carbon Gen 9. What do you say we fire it up on the test track? Benchmarks are next…Page 2 of 3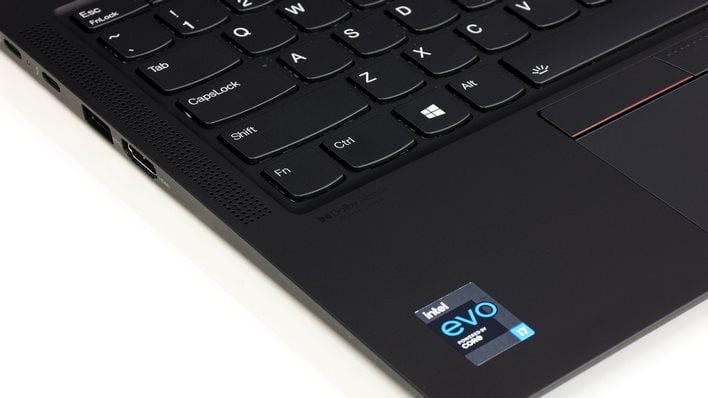 Intel defines Evo branded certified laptops as being "designed and tested to perform how you need them to, based on how you'll actually use them—with many applications open at once, heavy media use, and constant toggling," with "measurements of battery life, responsiveness, and speed [that] reflect the way you work." Launched in conjunction with Intel's Tiger Lake platform, Evo branded machines must meet certain criteria in performance and specifications. These laptops must have at least 8GB of RAM with a minimum of 256GB of storage with consistent responsiveness while on battery power. They also must wake from sleep in less than 1 second and provide specific connectivity benefits from WiFi 6 to Thunderbolt 4. To achieve some of these metrics, Evo certified machines like the ThinkPad X1 Carbon have to not only have robust CPU processing power, but also high performance subsystems for a balanced experience. Let's take a look at what Lenovo delivers here in that regard…
ThinkPad X1 Carbon Gen 9 Storage Test: ATTO
First on our docket of tests is the ATTO disk benchmark, which is a fairly straight-forward and easy test that measures read and write operations per second at differing file transfer sizes. On board our machine from Lenovo is a 512GB SK Hynix HFS512GD PCIe Gen 3 NVMe SSD, rated for 3.4 GB/sec for reads and 2.5GB/sec for writes.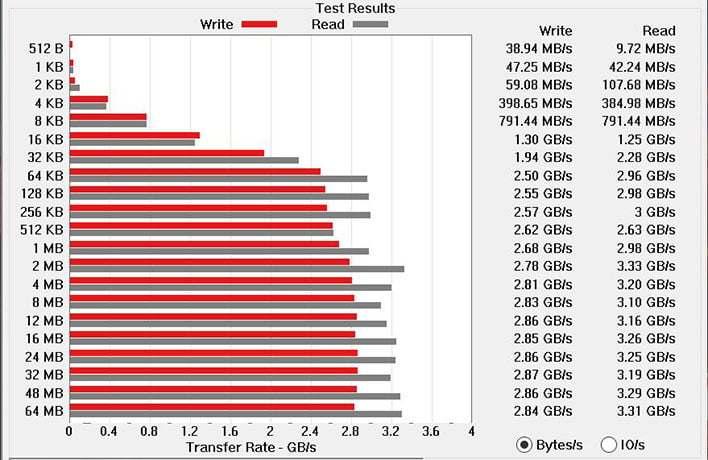 As you can see here, the ThinkPad X1 Carbon's SSD put up slightly better peak write numbers than its specification, but slightly slower read numbers that still were well north of 3GB/sec. Regardless, compared to some of the other drives we've seen in similar class ultralight laptops, these are very respectable numbers that will bode well in general throughout our benchmark gauntlet. We're still jonesing for the day we'll see a PCIe Gen 4 SSD grace an ultralight laptop configuration like this, but they're currently cost-prohibitive and may negatively impact battery life.
Web Based Benchmarks: Speedometer
BrowserBench.org's Speedometer is a real-world test for the performance people would find while using a browser. The test automatically runs several sample web apps using a number of popular web development frameworks such as JavaScript, React, and others. Besides just seeing numbers associated with speeds, this test is a good way to equate to a consumer's web browsing experience on a device.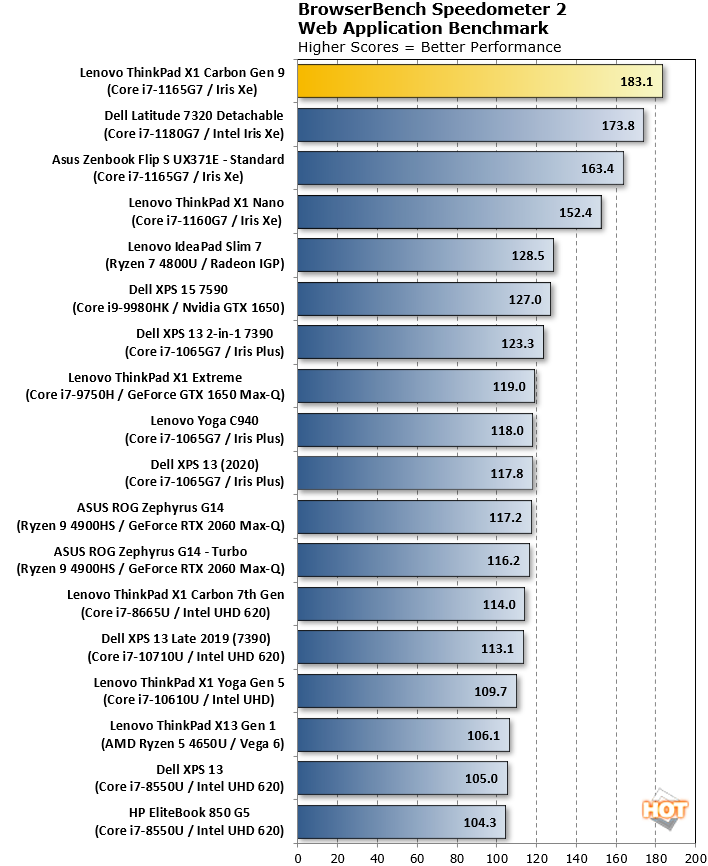 Here the new ThinkPad X1 Carbon Gen 9 puts up a top score as the fastest machine we've tested to date in this particular lightly-threaded benchmark. It even outscored beefier gaming-oriented machines like the ASUS ROG Zephyrus G15 (not represented in the graph) with its AMD Ryzen 9 5900HS CPU in this test. This could be a foreshadow of things to come.
3D Rendering Performance: Cinebench
Cinebench R20 is a long sustained-load rendering test that gives a good idea of single and multithreaded performance. Moreover, it gives a rough idea of how a laptop may or may not struggle in the cooling department, though thermal saturation is not something we noticed specifically in testing this ThinkPad machine.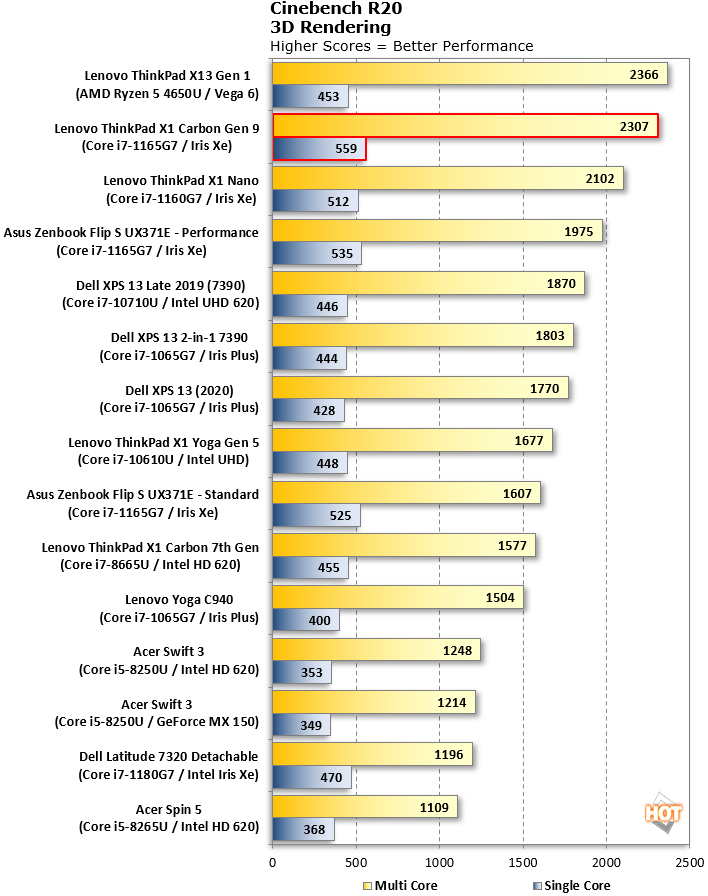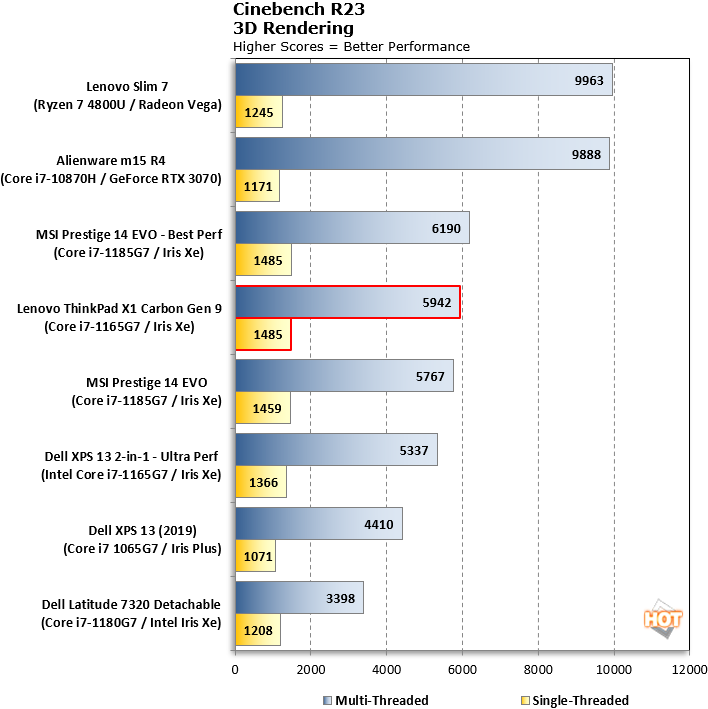 Once again the Lenovo ThinkPad X1 Carbon puts up very strong scores, even though its quad-core Tiger Lake should be on similar footing with other machines sporting similar configs. Here the new Lenovo ThinkPad only really falls victim to higher core count processor configurations.
Synthetic CPU Throughput Test: GeekBench 5
GeekBench 5 is something of a benchmark Swiss-Army knife as a "cross-platform benchmark that measures your system's performance with the press of a button." In this instance, we ran both the single- and multi-core tests to get an idea of how the ThinkPad X1 Carbon Gen 9 performs versus its peers.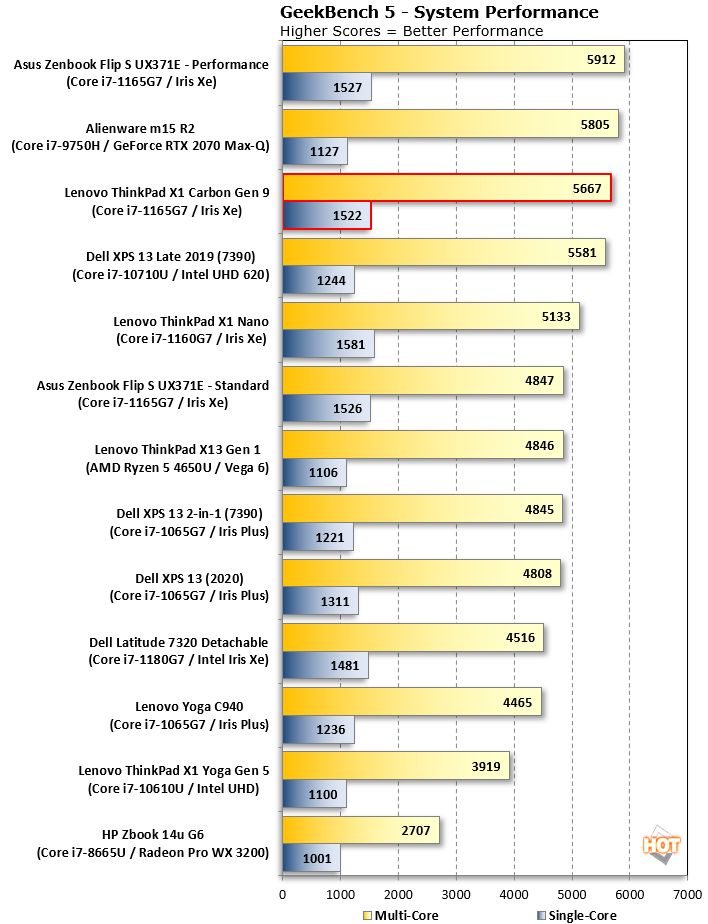 Here again we see another strong showing for the new ThinkPad X1 Carbon Gen 9. It doesn't quite catch the ASUS Zenbook Flip S in its Performance mode setting but it smokes it at its Standard mode setting.
Interesting Findings When Testing On Battery Power
We should note that out of the box, the X1 Carbon Gen 9 is set to Best Performance on the Windows Power Mode slider when plugged into the wall, and when unplugged, the machine drops to the Better Battery Life setting. However, with the Power Mode slider set to the same Best Performance setting and the machine unplugged from the wall outlet, we found a drop in top-end performance of about 12% in GeekBench and 28% in Cinebench, suggesting that Lenovo aggressively tunes the machine for utmost performance when plugged in, but overall better battery life when untethered from the wall.
Trace-Based Productivity Application Testing: PCMark 10
Futuremark tests are something of a staple when it comes to benchmarking systems around here, and for good reason. We put our X1 Carbon through the PCMark 10 gauntlet, which gives us an idea of how the device would perform in real world day-to-day productivity and content creation tasks, unlike GeekBench 5's synthetic workloads.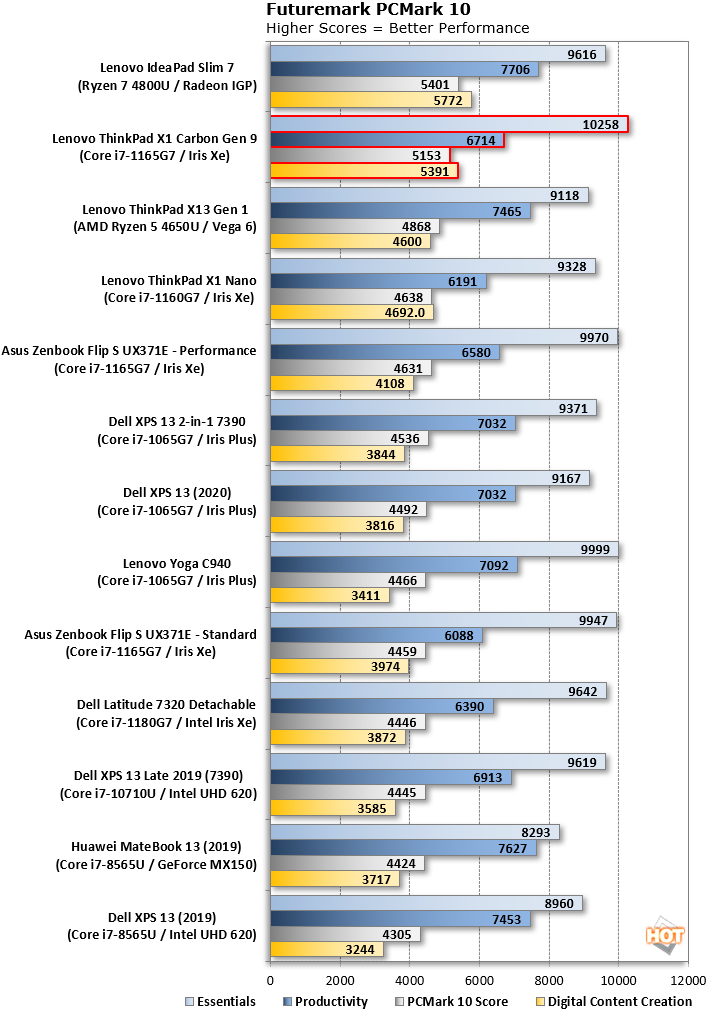 The results from this test are interesting indeed, showing that Lenovo's new ThinkPad X1 Carbon is a well-balanced machine capable of responsive throughput in light-duty productivity tasks and even robust content creation performance.
ThinkPad X1 Carbon Gen 9 Gaming Tests: 3DMark Night Raid
With all the productivity and day-to-day task tests out of the way, we can move on to testing the gaming-capable aspects of this new ThinkPad. As this laptop is thin and light, with gaming much less of a focus, we ran 3DMark's Night Raid benchmark as a quick sanity check.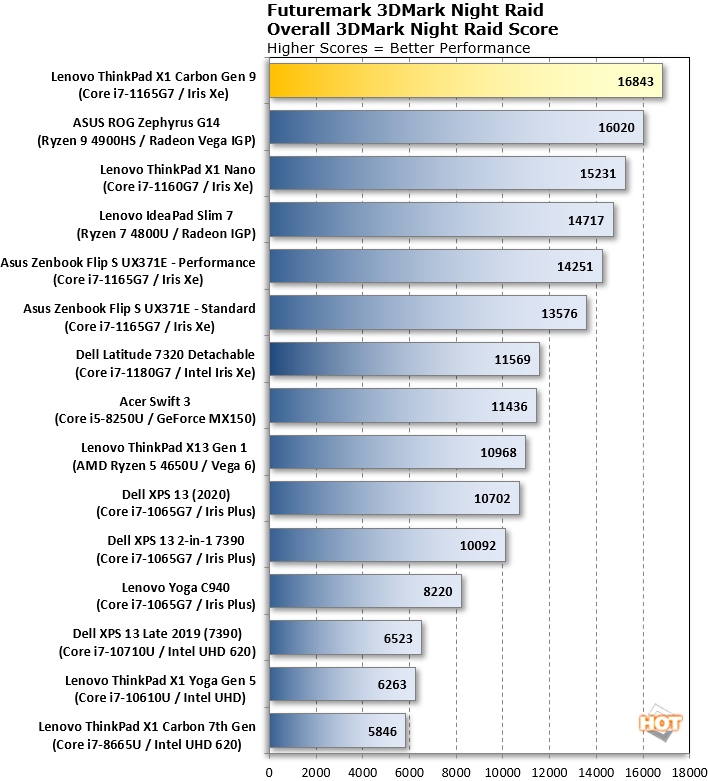 The Lenovo ThinkPad X1 Carbon puts up very impressive numbers here versus other thin and light machines in our database. In fact, it's the best scoring Tiger Lake machine we've seen yet in this benchmark, when plugged into the wall, and it only bled off about 15% of this number when running strictly on battery power.
Gears Tactics Gaming Benchmarks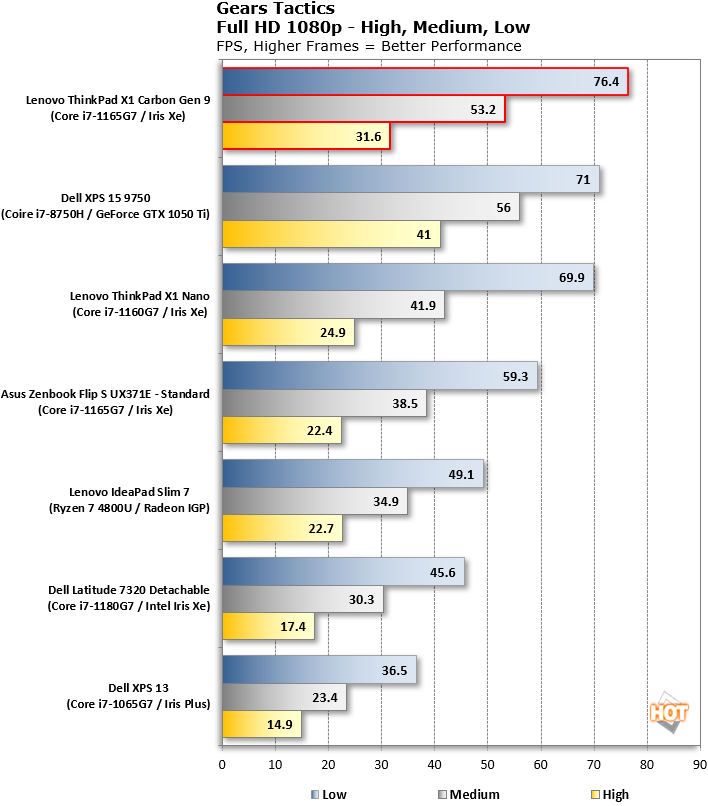 Pushing a somewhat more strenuous gaming workload in Gears Tactics, the ThinkPad X1 Carbon Gen 9 delivers playable frames rates even at the game's High quality preset. It's only at the High setting that it falls behind a discrete GPU-equipped machine like the Dell XPS 15. Regardless, once again it's the fastest Tiger Lake-based machine we've tested thus far, though some of that performance lead may be the result of Intel graphics driver optimizations over time.
Let's look at thermals, acoustics and battery life next… Page 3 of 3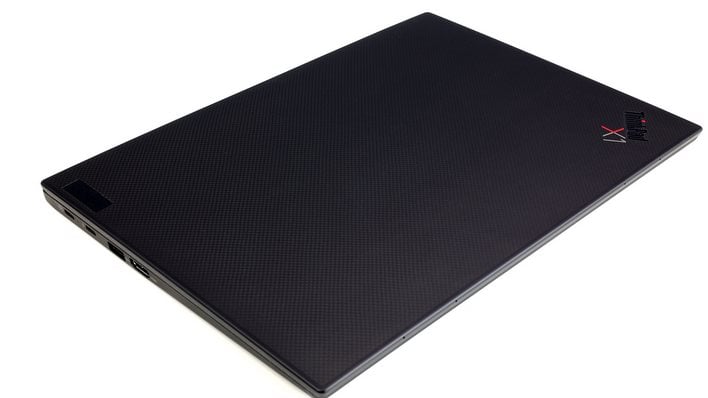 The new ThinkPad X1 Carbon has 5 simple Philips Head screws on its bottom panel that, once backed out, allow easy access to the machine's internals, at least on the bottom side of the motherboard. And though you do get access to a few key components, not all is user serviceable.
ThinkPad X1 Carbon Gen 9 Teardown, Thermals And Acoustic Performance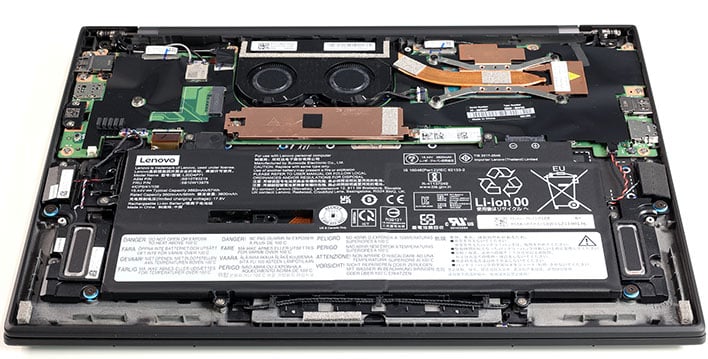 Once inside this wafer-thin beastie, you can see the bottom-firing woofers that we mentioned earlier, along with a large area for a thin, but capacious, 57 Wh battery. Here you can also see a copper heat spreader for the machine's primary M.2 SSD, though there is a spare M.2 socket with a short M.2 2242 style port available as well (top left corner). This does give users the option of dropping in another SSD for additional storage, which is a nice touch. Our hunch is that Lenovo designed the machine this way to make storage configurations as flexible as possible in their production flow, but it also serves the consumer well.
Unfortunately, as is common these days, the ThinkPad X1 Carbon Gen 9's DDR4x RAM is soldered to the motherboard and not visible here, nor are there any SODIMM sockets, so choose that memory configuration wisely boys and girls.
The other notable observation here is the X1 Carbon's single heat pipe and fan sink design, which is strapped with a pair of blowers, that pull cool air in through the bottom of the machine and exhaust it immediately through the back edge of the keyboard, just under the display. Here's how that cooling system performs under load…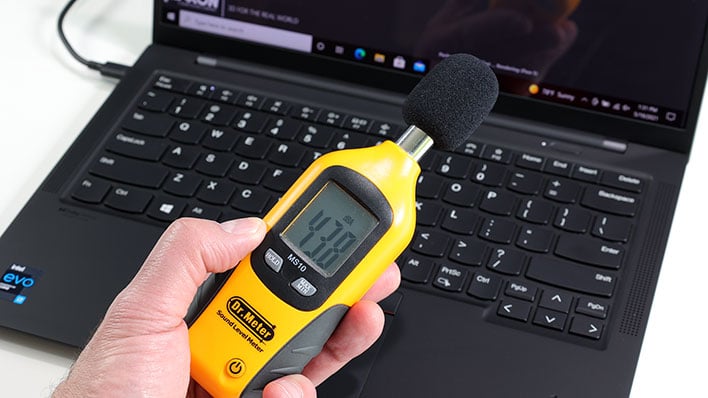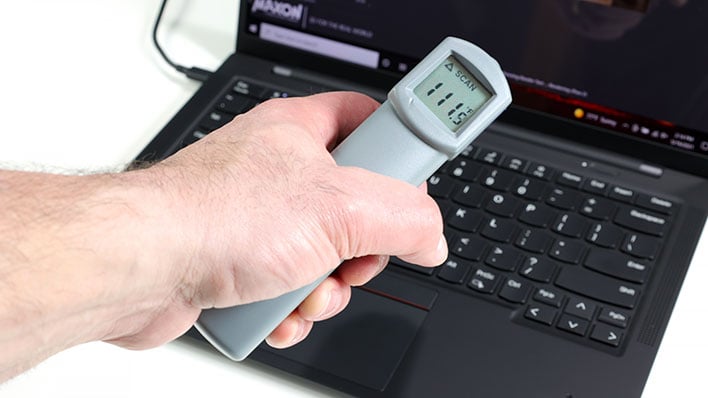 In short, Lenovo designed an excellent cooling solution with the new ThinkPad X1 Carbon. Not only is it well-behaved with completely tame acoustic output at around 44db (ambient room noise floors are typically around mid 30s or so) but it also stays cool under load. The warmest part of the machine is just under the display where the back edge cooling vent is located. This area is completely out of contact with the user with normal typing hand position, but also at 111 degrees F, thermals are well within skin contact thresholds. Finally, what was most impressive perhaps is that Lenovo's thermal solution with the new ThinkPad X1 Carbon only bled off about 5 percent of its full performance, when plugged in and under continuous load of a 10 minute Cinebench R23 stress test loop. Well done.
ThinkPad X1 Carbon Gen 9 Battery Life Test
Our custom video playback battery test times how long each laptop can play back video at the display's native resolution. Windows 10's Focus Assist was enabled to block all notifications and the screen was calibrated to as close to 115 lux as possible according to our light meter. On the Windows Power slider, we selected the position labeled "Better Battery Life" and we stuck to the default power profile Lenovo configured on the system.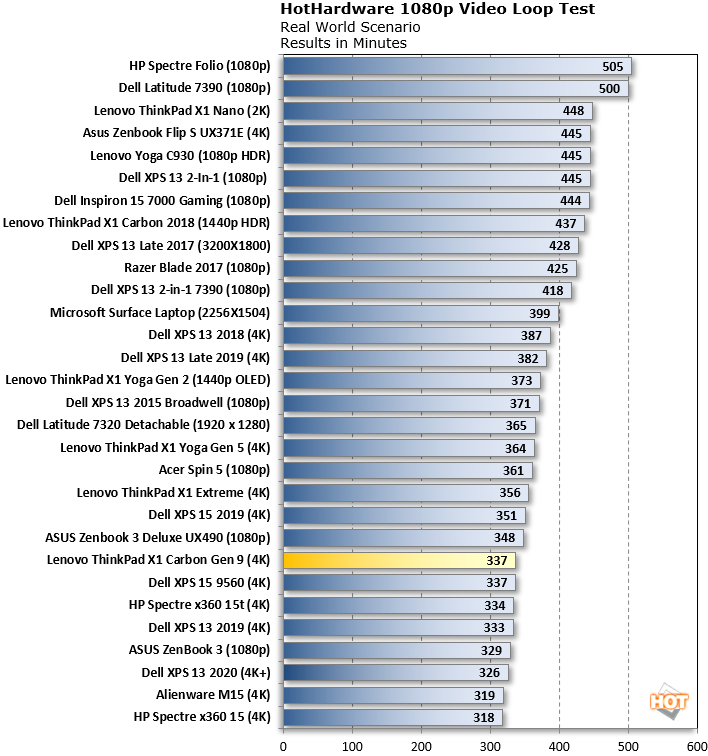 We should probably label this chart "All The 4K Displays Go Down Here." Though Lenovo claims greater than 9 hours of battery life (depending on workload) on its FHD+ display option with the new ThinkPad X1 Carbon, our UHD+ 4K display-equipped model managed only a little over 5.5 hours of uptime during always-on HD video playback. Undoubtedly, the 1920X1200-equipped models of this laptop will perform much better in battery life tests, but this is what we had in for testing at the time. Obviously, an ultra-high resolution display like this simply has a lot more pixels to light up, so if you're looking for battery life that hangs up there on high with the 1080p-strapped machines, then by all means, go with Lenovo's FHD+ display option.
ThinkPad X1 Carbon Gen 9 Review Take-Aways And Conclusion
Lenovo's new 9th generation ThinkPad X1 Carbon is an interesting machine to be sure. On one hand, it offered some of the best numbers we've seen from this new breed of ultralight Tiger Lake 11th Gen Intel Core-powered laptops, with chart-topping benchmark results virtually across the board. It also exhibited well-behaved thermals and acoustics, with what is obviously a well-design cooling solution on-board for sustained performance when plugged into the wall, and with relatively low fan noise.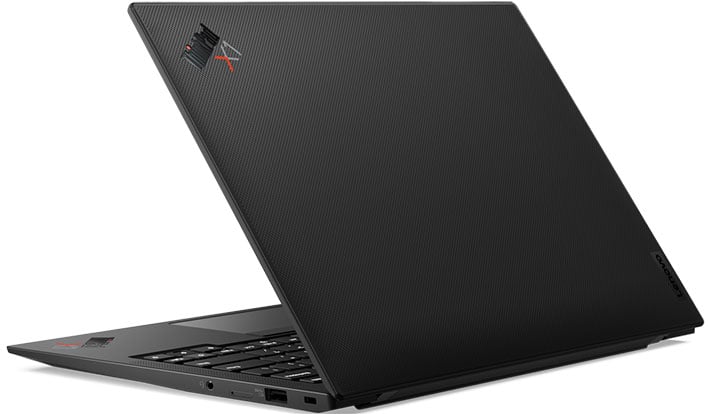 That said, untethered and on battery power, the machine does drop a bit of performance off in exchange for battery life, which makes sense considering the target user demographic for this laptop. When you need to crunch more serious content creation work, you may want the extra juice that the X1 Carbon's AC adapter provides for its Intel 11th Gen Core series processor's power envelope. These power profiles are a design choice Lenovo made that we think is reasonable and even on battery, the machine should handle any typical task you'd throw at this class of notebook with ease.
Design-wise, the 9th coming of the ThinkPad X1 Carbon is easily our favorite yet. The system's new 16:10 format UHD+ (3840X2400) HDR display is simply gorgeous, though you do sacrifice battery life in exchange for lighting up all those crispy pixels. Go for the FHD+ (1920X1200) display, if battery life is more important to you, for undoubtedly better longevity. In addition, with the machine's optional, fantastically well-done human presence detect feature enabled, you'll conserve even more power, as it drops to standby almost instantly when left unattended but wakes up in an instant as well, when your gaze locks back on.
The other aspects of the X1 Carbon Gen 9 that have returned, like its sleek, matte black finish with carbon fiber weave, continue to impress us, every time we unbox one of these machines. And that ThinkPad keyboard on a 14-inch form factor, in a word is just perfect, though whether or not you'd prefer a slightly smaller 13 inch-class or larger 15-inch frame, is personal preference of course.
The only real drawbacks here are the ThinkPad X1 Carbon Gen 9's price point and that still curiously missing MicroSD card slot. Starting at $1400 and listing for around $1900 and change as tested here, this new ThinkPad is a bit of a tall order. However, if you're in the market for one of the best all-around ultralight laptops out there currently, Lenovo's ThinkPad X1 Carbon Gen 9 should definitely be in the running, and we consider it an Editor's Choice.
All Rights Reserved for Dave Altavilla